Quick! The baby is asleep! The toddler is... watching TV... Do all the things! Clean! Blog! Eat! Brush your teeth! The good news is Laura had a post for me today, so the blogging part didn't take too long :o). Enjoy!
***
Hi everyone! My name is Laura and I blog over at
Stories from Austin
. I'm a first-time mom to baby M, who was born Thanksgiving weekend. Our little family lives in Austin, TX and we absolutely love it here! I'm a stay-at-home mom, but I also work from home about 12-15 hours a week. It's a great set up because I get to spend lots of time with M, but am also able to keep my foot in the workforce world. I blog about love, life, and parenthood, so come say hi over at
Stories from Austin
!

I like to stay active with M, so we try to get out of the house and do something fun about 3 times a week (mommy & baby yoga, story time, play dates, walks, etc.) and I also do a little bit of work 5-6 days of the week. Here is a how we spend a typical day!
3:30am: M wakes up, wanting to eat. We've been dealing with sleep regression recently, but she just slept 6.5 hours straight so I'm thrilled! I feed her, and then she needs a diaper change (yeah...). She fell asleep as soon as she was done eating, and now I have to wake her up. Crap. She's smiling and cracking up while I change her. Kiddo is WAY too happy for the middle of the night. I rock her to settle her back down.
4:00am - I lay M back down. 98% of the time our middle of the night wake-ups are literally 10 minutes, but it took me awhile to get her back to sleep since she was so rowdy.
7:40am - My husband and I wake up and chat for a bit. He typically goes into work between 8am and 9am..today was going to be more like 9:15am.
8:00am - M wakes up, laughing, kicking, and squealing. We have the crib in our room, next to my side of the bed. We LOVE this set up. She's SO HAPPY when she wakes up in the mornings, it's hilarious. She's also ravenous, so I grab her and feed her in bed. Husband gets up, makes coffee, and hops in the shower.
8:20am - M and I finally pull ourselves out of bed and she gets a diaper change!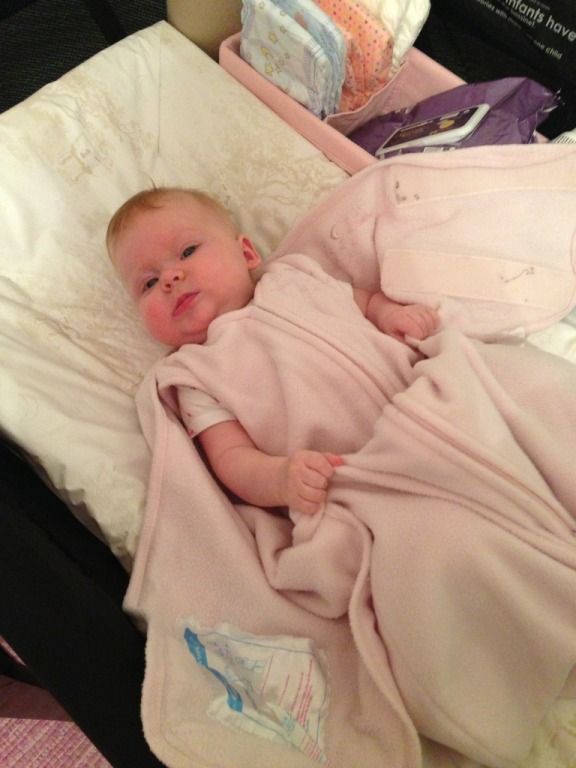 I need to give M a bath (she HATES baths at night, so we do them in the mornings now), but I take a quick shower while my husband hangs out with with her for a bit. I try to shower before he leaves in the mornings, but that doesn't always happen.
8:35am - M gets a bath!
8:45am - M plays on her floor mat in her diaper, I blow dry my hair, and my husband and I eat breakfast. He has to leave in a bit, so he finishes getting ready and I pick up the house and start the cloth diaper laundry (I forgot to start it the night before and now I have to use disposables for part of the day until they are finished....lazy mommy!). Husband leaves for work at 9am.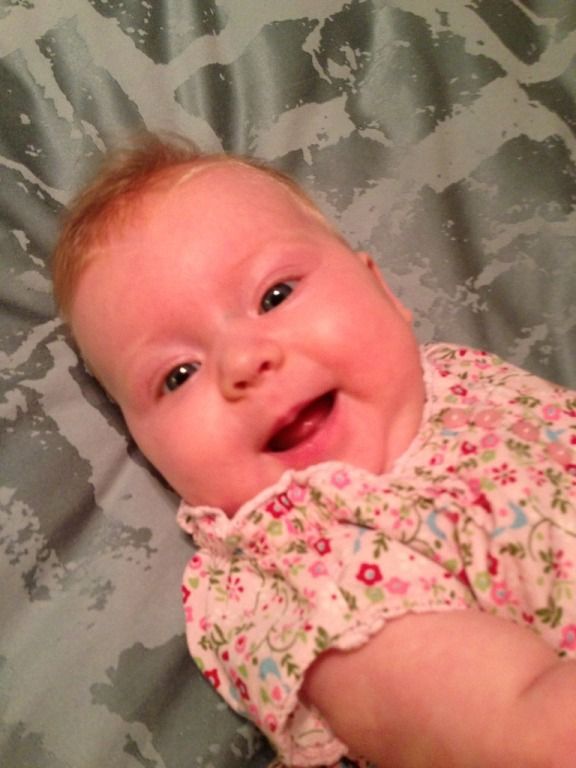 9:10am - M starts fussing and rubbing her eyes, so I swaddle her (she's a swaddle addict who STILL has a high startle reflex...I'll probably need to swaddle her in college) and quickly rock her. Within 10 minutes she's sound asleep.
9:25am - I lay M in her bouncy chair for a nap. I finish my coffee from earlier, check and respond to some work emails, and finish getting ready because we're going out to the park for a playdate in a little while.
10:00am - M is awake after about 45 minutes. Her morning nap is always super short, but she wakes up in a good mood so I never try to lengthen it. I feed her and she spits up all over herself. Arg! I change her diaper, clothes, and finish packing up out gear and we head out to the park.
10:20am - Leave for the park! We are late, of couse. It's going to be nearly 90 degrees today (in the middle of March!) so I had to make sure we were both equipped to handle the weather.
10:35am - There is a wreck on the highway and M is having a total meltdown in the back of the car. I try to just focus on the road because there isn't anything I can do at the moment.
10:50am - Well, a 15 minute drive turned into 30 minutes. We finally arrive at the park and M gets to see her baby friends. She is VERY fussy, this is not like her. We experienced this yesterday for HOURS too, but since she woke up in a good mood today I thought we were in the clear.
12:30pm - M fussed off and on the entire time we were at the park. I tried everything--feeding her, diaper change, walking in the K'Tan, trying to get her to sleep, feeding again, NOTHING worked. The general consensus from the other mommies is that she might be teething. I've actually suspected this due to the amount of drool, chewing on things, and hysterical crying. She would calm down when I let her chew on my finger. Hmm. I guess we will see...
12:40pm - I try to feed M in the car before we leave since she refused to eat the entire time at the park. She ate a nice big meal, and seems a bit happier. We drive away and she starts fussing, but passes out in the backseat. Since she's been super fussy, I decide to go through Starbucks drive-thru, chill in the car for a bit, get gas and hope she stays conked out for awhile.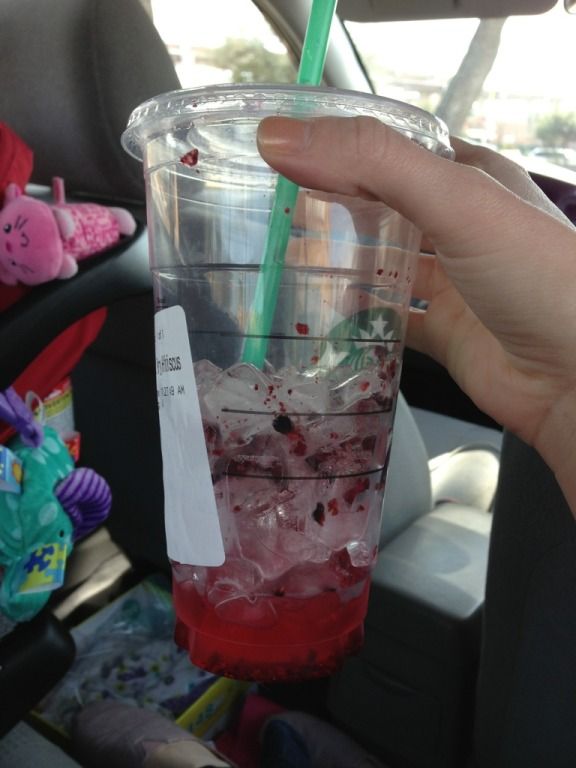 1:15pm - M is awake and is YELLING in the backseat. She is making her very distinct "I'm still tired" cry, so I rush home, change her diaper, swaddle her, and rock her back to sleep. I want to make sure she naps well today since she's so fussy. She falls asleep around 1:30pm.
1:40pm - I rocked her for awhile to make sure she was really OUT. I put her in her bouncy chair and make a quick lunch. I watch a little tv, and read a little bit more of "The No-Cry Sleep Solution". We aren't really having many sleeping issues, but we are trying to help her develop healthy sleep habits NOW and encouraging positive sleep associations.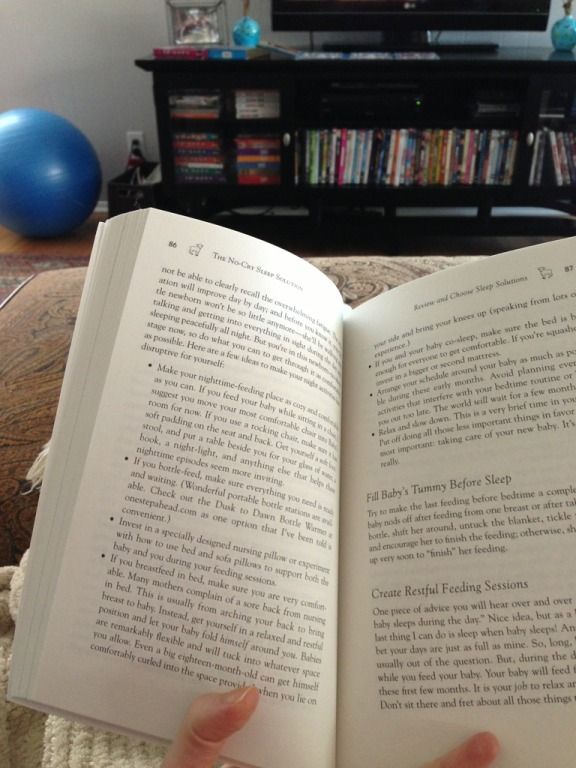 2:20pm - I do a little bit of work since she is still sleeping.
3:20pm - M is still sleeping--wow! I didn't have a lot of work to do today luckily, so I close down for the day. I check FB, twitter, and blogs for a bit.
3:40pm - M is awake, finally! We do a quick diaper change and M eats.
4:00pm - M gets another diaper change. Ha. That happens a LOT. M plays on her changing table while I stuff cloth diapers next to her.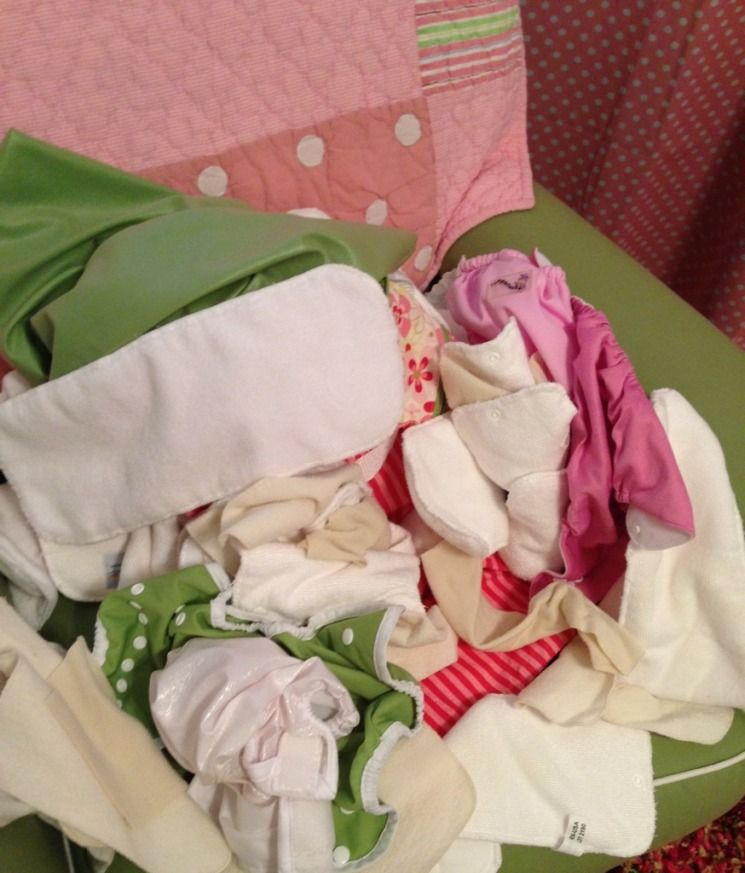 4:15pm - M plays on her playmat while I pick up the house a little bit and answer a few more work email that came in over the last hour.
4:30pm - M is hungry again, and then starts rubbing her eyes. I try to get her down for a nap around 5pm. She fights this nap often and today is no different.
5:30pm - I set M in her bouncy chair. I was reading a book on my iPad, so I ended up holding her for like 25 minutes after she fell asleep. The snuggles are nice :) After this, I watch a little tv, check the mail, repack my diaper bag (I was low on diapers, wipes, and burp cloths). Talk to a neighbor for a few minutes outside.
6:00pm - M is awake! Super short nap, but whatever. We do a diaper change and practice sitting up and have a little tummy time. She can sit up unassisted for about 10 seconds now! Big girl! She shows no desire to roll though, and despises tummy time. She also decides she wants to eat the remote control.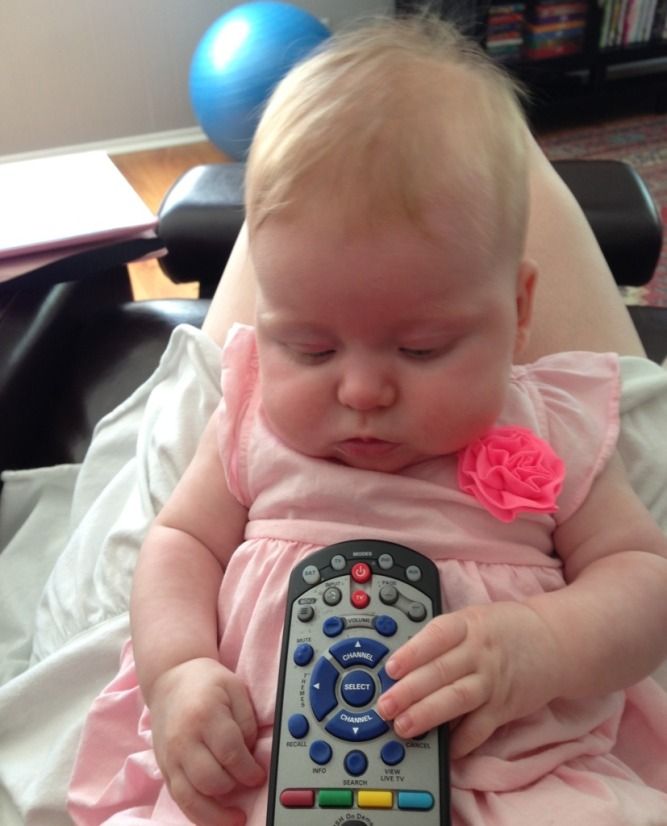 Then she wants to eat again---little piggy!
6:40pm - Daddy is home! He's usually not home this late. He plays with M for a bit while I read some blogs, check the news, and other things like that.
7:00pm - I warm up some soup and make salads for us for dinner. Usually my husband makes dinner, but when it's this simple, I offer to do it so he can spend some more time with M. He opens some wine for us, pours himself a full glass and about 2oz for me since M will want to eat.
7:30pm - We sit down to eat and put M in her high chair. She plays with her Winkle toy while we eat and chat.
8:10pm - M is over the highchair and is starting to fuss. I can see that it's getting time to get ready for bed (we don't have a set bedtime, it's usually between 8:30-9:15pm). I feed her, change her, swaddle her, and then pass her off to my husband. They read a book, and he rocks her for about 10 minutes. We are trying to get her to fall asleep in her crib because when she falls asleep in our arms she almost always wakes up about 45 minutes later screaming. We think its because she can't figure out how she got there. We've been trying a no-cry way of doing this and it's going okay (we know it will take time) and tonight she was awake when my husband put her down and she grunted a few times and then shut her eyes! She slept from 9pm until 6:30am! I was shocked.
9:00pm - M is asleep so I have a little wine and we watch tv until about 10:30pm. We head to bed at that point and cross our fingers that M has a good night. I fall asleep quickly.
11:50pm - I wake up to someone grunting and laughing in the crib next to me. I know M is awake but since she isn't fussing, I leave her be to see what happens. 5 minutes later she was back asleep---go M!
What is the most surprising thing to you about being a mom?
I am surprised how quickly I fell into the "mommy" role. I absolutely love it. I thought it might take me a few weeks to "settle" into it, but I absolutely loved it from day one (even though I had no idea what the heck I was doing and was terrified of this tiny being). My entire outlook on everything has changed---M is the biggest factor in all of my decisions now.
What advice would you give to new or soon-to-be mamas?
Starting with your birth all the way through childhood, do what's best for YOUR family. All families are different, all situations are different, all babies are different. Natural birth wasn't for me (I could write a love song for my epidural), but we turned out to be extremely "crunchy" parents (I must emphasize PARENTS)---we lean towards attachment parenting, we cloth diaper, room share, I breastfeed, etc. These things work for us and make us happy, but those choices are NOT for everyone. We've gotten some flack because we have no plans to move M into her own room. What people need to remember is that these may not be right for their situation, but they are right for ours. Don't second guess yourself.
What are your top three baby products?
1. Halo Microfleece Swaddle Sleep Sacks - I'm really good at wrapping these so M has a hard time busting out. I don't like the cotton ones--the microfleece is the way to go!
2. The Happiest Baby on the Block - Best baby book ever. We buy it for all of our friends who are expecting.
3. A cute purse/diaper bag - I stopped carrying a purse when I had M, but I adore handbags. I bought a diaper bag that doubles as my purse and I LOVE it. I have the
Mamie Bag
made by Ness.
Hope you enjoyed reading and come visit me over at
Stories from Austin
!
***
Thanks for sharing with us Laura!!