Teething sucks. Teething sucks. Teething sucks. And what is it about diaper changes that are so absolutely traumatizing? Good to know it isn't just at our household though, sounds like little Ellie doesn't love them either. Today you get to enjoy a look at a day in the life of Kyna!
***
Hello, I'm Kyna from
great expectations
. My husband Matt, and I have a beautiful 20 month old daughter named Ellie. We absolutely love being parents and have enjoyed the wonderful journey parenthood has taken us on so far.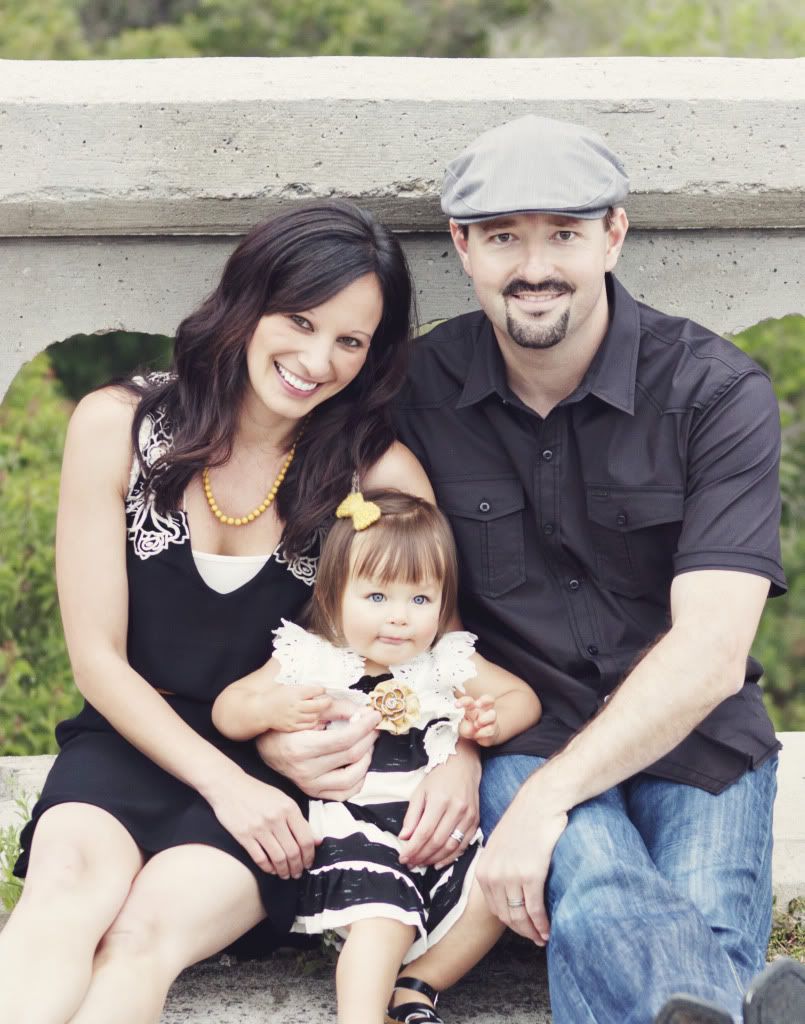 (Image copyrighted by Nina S.)
I am lucky enough to only work 4 days a week, and we are even luckier that on those 4 days, Ellie is able to stay at our house and both of her grandma's come over to watch her (Matt's mom comes over on Mondays to watch her, and my mom comes over Tuesday-Thursday to watch her...yes, I know, we are VERY lucky!) Fridays are my day with her, Ellie and Mommy day! So I decided to use a Friday for this post (the other weekdays are boring...no one wants to hear about my work days! And the weekends are always different, never typical, as Matt and I try hard to do something different and family friendly every weekend).
So here is our typical Friday...
7:30 a.m.
- Ellie is up for the day! Because it's Friday, and I don't have to go to work, I am awake, but still laying in bed, checking my email from my iPhone. Ellie always wakes up slowly, and will just lay in her crib happily chatting to herself, or singing for at least 15-20 minutes, giving me time to at least brush my teeth and maybe wash my face or throw on my clothes.
7:20 a.m.-
After a quick diaper change (during which her cute little smile quickly disappears and she throws an all out tantrum), it's time for her morning milk. Ellie is not a huge milk fan, so anytime we can get her to drink her milk is a victory for us. She finishes about 3 ounces of milk and we move into the bathroom so I can finish getting ready for the day. I step out of the bathroom for a minute and come back to this!
She loves playing with my hair products, but this is the first time she has managed to open one of the tubes! Time to move them out of that cabinet!
8:15 a.m.-
Ellie starts asking for her oatmeal. Her breakfast hardly ever changes day to day. The kid LOVES her oatmeal, and will rarely eat anything else in the morning, so oatmeal it is! As she is feeding herself, I gulp down a half of a bagel with peanut butter and a glass of orange juice.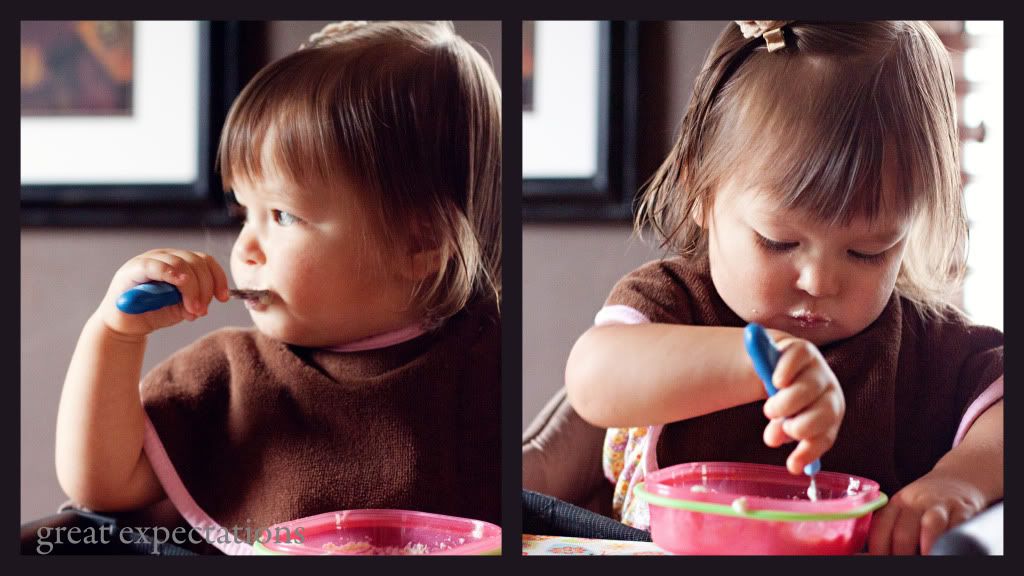 She also gets her all important calcium vitamins, which she loves! She thinks they are her morning treats! Like I mentioned before, she does not drink enough milk in the day, and sometimes doesn't make up for it with other dairy products, so our pediatrician suggested these.
8:45 a.m.-
I throw a load of laundry in, do some dishes (fun stuff huh?) and play with Ellie in the living room for awhile. She is in love with all of her stuffed animals right now, so we line them all up on a blanket so they can go "Nyt nyt". She's so adorable with them!
9:00 a.m.-
Ellie has a Dr's appt today to get two of her shots (we fully vaccinate, but we get them at a slightly slower schedule which means a lot of visits to the doctor. Luckily, I absolutely love our pediatrician and all of the nurses that work there!). It's time to get her dressed, and try to do something with her awesome bed head hair!
10:00 a.m.-
Waiting for her shots! She looks so scared and nervous doesn't she?
(Oh, they called my name? Okay momma, time to get my shots!)
She did great! No crying at all! I think she is getting used to that quick needle prick by now.
10:30 a.m-
The appt went fast since it was just for shots. It's way too early to head home for lunch and naptime, and it's a beautiful day, so we stop at a park down the street so Ellie can run around for a little bit. She absolutely loves the swings and she can stay on them all day long!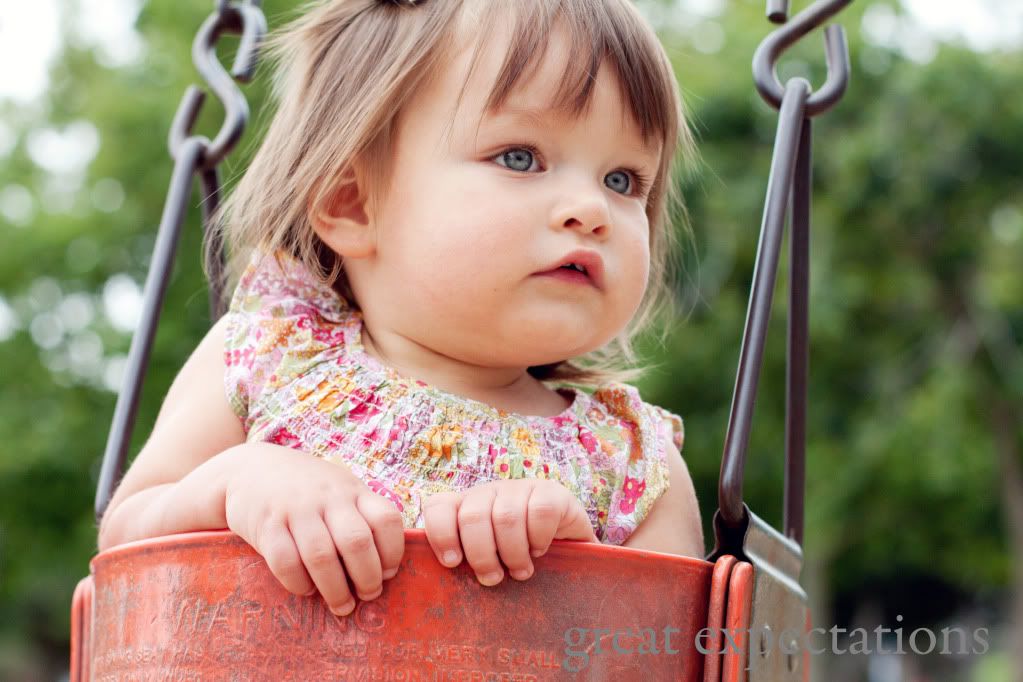 11:30 a.m.- Okay, she literally stayed on the swing for an hour! So much for her running around and burning some energy off! But she was happy and giggling the whole time, so 10 minutes turned into 30, which turned into an hour! Time to head home for lunch and nap time. Ellie sings songs the whole way home. It seems like her vocabulary is practically doubling every day and she loves to chatter to herself, count, or sing songs. It's the most adorable thing to listen to and it always brings a smile to my face.
11:45 a.m.- Lunch for Ellie is chicken and rice and watermelon for dessert. I offer her some milk, but like usual, she only takes two tiny sips and she is done. I try to offer her some cheese or yogurt, but they get declined with an emphatic no! Calcium intake for the day, not looking so good...sigh.
12:00 p.m.-
Naptime! She goes down pretty easily for her naps. As long as she has her stuffed bunny, and her pacifier, she is good to go. We know we need to eventually wean her from the pacifier (as her dentist always reminds us), but she is sleeping so well, and we only let her use it when she is her crib, so I am okay with it for now. Nap time is my time to get
my
things done! I quickly eat my lunch (leftover roasted chicken from last night's dinner and an apple) while checking my email and google reader, catching up on my favorite blogs. I type out a quick post for my blog, and then sit down to edit some pictures I recently took. Editing pictures always takes me a long time because I'm just not very efficient at it yet! I also manage to squeeze in a really quick work out with my friend, Jillian Michaels, before Ellie wakes up.
3:00 p.m.-
Snack time, a handful of goldfish and some strawberries and more watermelon (her current fruit obsession right now). I also manage to get her to drink about 5 ounces of milk! Hooray for Mommy! I put on an episode of Sesame Street because she is still a little bit groggy from her nap while I finally finish the laundry from this morning and try to clean up all of the toys that have been taken out throughout the day. Then we head outside to play in the front yard and wait for Daddy to come home.
5:00 p.m.-
Matt is home, hooray! I pass Ellie off to him and start getting dinner ready. Our friends are coming over with their 21 month old little boy, Brayden. I am making fish tacos for all of us for dinner.
6:00 p.m.-
Dinner time! I try to sneak in a quick picture while Ellie is eating, but at this point she is so tired of looking at the camera that she just yells "NO" and completely refuses to look cute and smile.
7:00 p.m-
One last run around the backyard before Brayden has to leave for his 7:30 bedtime, and we have to start Ellie's bedtime routine.
7:30 p.m.-
We let Ellie splash around in the tub until her fingers and toes are wrinkled and then pull her out. After listening to another fit during the final diaper change of the night, she sits with us to have about 3 more ounces of milk and listen to her bedtime stories.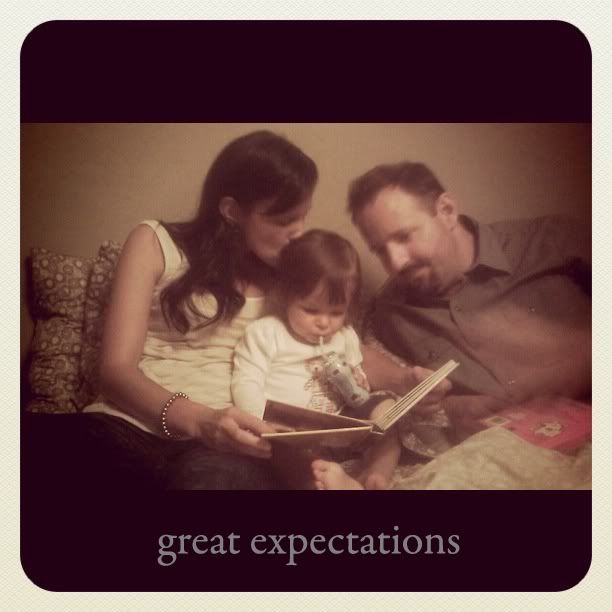 8:00 p.m-
Ellie goes to bed and Matt and I wind down on the couch with a glass of wine and our computers. I catch up on a few more blogs and edit a few more pictures and then we watch a little bit of TV and talk about what we want to do over the weekend.
11:00-11:30 p.m.-
I'm exhausted and ready to head to bed!
Questions:
What is the most surprising thing about being a mom?
Honestly, how naive I was when I used to picture us and our baby. Matt and I always used to say we wouldn't be parents that did this, or our baby wouldn't be like that. Turns out, you don't get to hand pick and decide what your baby will be like! We always swore we wouldn't tiptoe around our sleeping baby...we even judged parents that did. Ellie has ALWAYS been a light sleeper since day one, and guess what? As much as we try not to, we often times find ourselves tiptoeing around her so she can get a good nap or so she sleeps through the night. The list could go on and on of all of our "I will nevers..." or "Our baby will..." We were so naive to think we could "expect" our baby to be a certain way and to judge other parents before we had a baby of our own. Babies are just tiny people, they all have their own personalities and their own quirks and we can't control a lot of that.
What are some tips or advice you would give to new or soon-to-be moms?
It's great to read all kinds of books, or ask other mother's their advice when it comes to parenting, but always remember that you need to do what is best for your baby and your family. And that may be very different than the advice you read from a bestselling "expert", or the advice you get from your neighbor who has 3 kids of her own or even the advice you get from your friend who has a baby the same exact age as yours and is dealing with the same exact thing. Obviously, make sure your decision isn't harming your baby in anyway, but trust your instincts and do what you feel is the best in your own situation.
What are your top three baby products?
1. Summer Infant Video Monitor- We got the one that zoomed and panned the room, which seemed silly when she was a baby and never moved anywhere, but now that she is older, it's nice to be able to find her in the crib by panning the camera around. We love this monitor and highly recommend it! A lot of people say we are silly for needing a video monitor, but I love being able to hit a button and see her sleeping at anytime.
2. Soothie Pacifiers- I already touched on this one, but Ellie really doesn't sleep well without these. Yes, it's her sleeping crutch, but when I have to go to work in the morning, I don't really care if it's a crutch! It helps her fall and stay asleep, and sleep is so valuable in our house!
3. Halo Sleep Sacks- We partially still use a sleep sack because it's just part of Ellie's nightly routine and it is almost like a security blanket for her, but in the winter, it does get really cold in her room, so this one extra layer puts my mind at ease.
***
Thank you for sharing your day with us Kyna!